So Delicious Meaty Balls with fresh herbs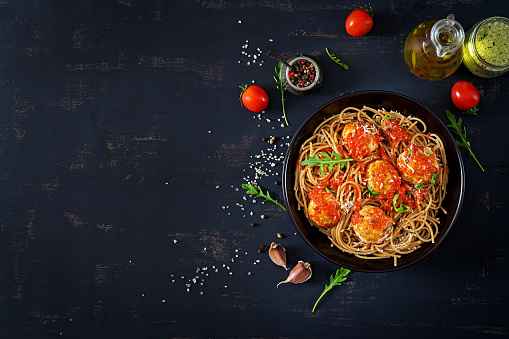 Italian Meatball Recipe
This is a firm family favourite in our house. The recipe is from an Italian friend but I have tweaked it. You can substitute the fresh parsley for dried herbs ie oregano or basil. There's nothing more hearty than a plate of steaming hot pasta with meatballs in a delicious tomato based ragu sauce.
INGREDIENTS
1/2 cup (125ml) extra virgin olive oil
40g unsalted butter
3 garlic cloves, crushed
1 large onion, finely chopped
1 each celery stalk & carrot, finely chopped
2 tbs each finely chopped rosemary & sage
1/4 bunch flat-leaf parsley, leaves picked, finely chopped
1 bay leaf
Pinch of chilli powder (optional)
1/4 tsp ground cinnamon
1/2 cup (125ml) red wine
2 roma tomatoes, finely chopped
700ml tomato passata
2 cups (500ml) good-quality beef stock, plus extra to top up
Parmesan, to serve
MEATBALLS
100g stale sourdough bread slices, crusts removed
1/4 cup (60ml) milk
1 garlic clove, crushed
1/4 cup (60ml) white wine
1kg coarsely ground pork mince
30g finely grated parmesan
1/4 tsp ground cinnamon
1/2 onion, coarsely grated
1/4 bunch flat-leaf parsley, finely chopped
1 tbs finely ground breadcrumbs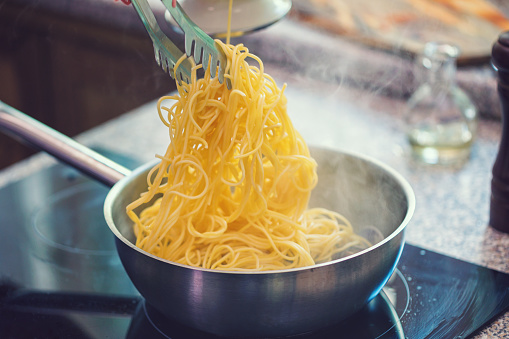 METHOD
1. For the meatballs, place the bread and milk in a bowl, toss to combine and stand for 8-10 minutes until softened.
2. Meanwhile, place garlic and wine in a jug and stand for 10 minutes. Strain wine into a bowl and set aside. Discard garlic. Squeeze out the excess milk from the bread then finely crumble the bread into a large bowl of a stand mixer with the paddle attachment. Add remaining ingredients and reserved wine, and beat for 5-6 minutes to form a slightly creamy consistency. This will help hold the meatballs together. Divide mixture into 40-43 (approx. 30g each) meatballs and place on trays lined with baking paper. Chill to set slightly.
NEXT
3. To make the sauce, heat the oil and butter in a large wide heavy-based saucepan over high heat. Add the garlic and cook, stirring continuously, for 1-2 minutes until it starts to go golden. Stir in the vegetables, herbs, chilli powder, if using, and cinnamon and cook, stirring occasionally, for 6-7 minutes until vegetables have softened. Add wine, scrape the bottom of the pan with a wooden spoon and reduce mixture by half. Add tomatoes passata and stock, season to taste and stir to combine. Add the meatballs and return to the boil. Reduce heat to low and simmer, shaking pan and stirring occasionally, for 1 hour 30 minutes – 2 hours until sauce has thickened and meatballs are cooked. You may need to top up with extra stock or water to prevent sauce from drying out serve with any kind of your favourite pasta.
There you have it the most delicious plate of meatballs you may ever taste. You could make this dish healthier and vegetarian by using Quorn Meatballs or use minced chicken thigh mix an egg with the breadcrumbs and minced chicken to bind and fresh herbs. For more healthy food ideas You can find more amazing Pasta recipes here try this Marinara Sauce from Foodythoughts.